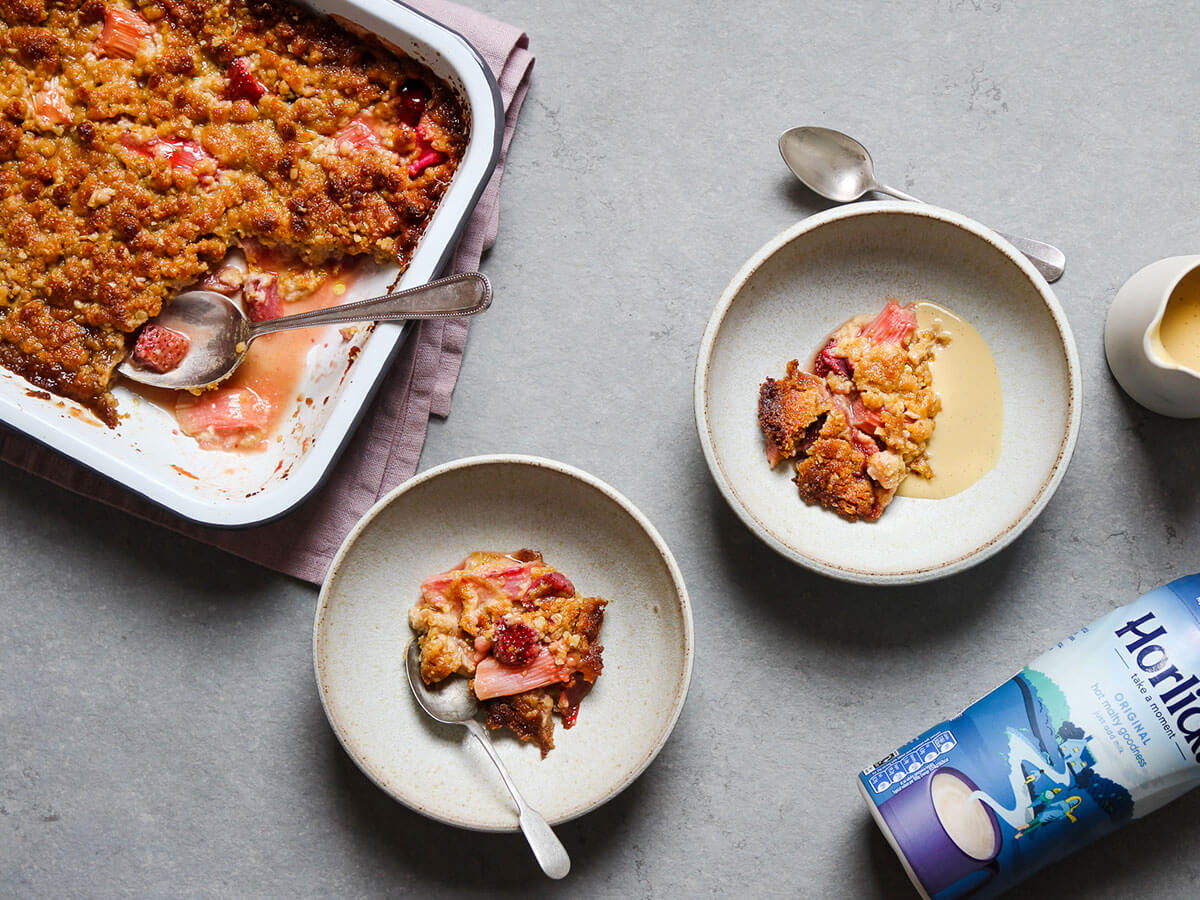 Rhubarb and strawberry crumble with Horlicks custard
By Carmen & Sam
Recipe creator
The malty goodness of Horlicks brings a lovely balance to the lip-smacking rhubarb and strawberries in this bright and balanced crumble. Malt custard adds bells and whistles to this family favourite.
Ingredients
400g rhubarb, cut into 3cm batons
400g strawberries, halved or quartered
40g demerara sugar
125g plain flour
60g Horlicks Original
35g ground almonds
30g rolled oats
170g chilled unsalted butter, grated or diced
75g demerara sugar
¼ tsp salt
290ml whole milk
3 egg yolks
1 vanilla pod, split in half and seeds scraped out
2 tbsp caster sugar
30g Horlicks Original
1 tsp cornflour
Made using
Method
Rhubarb and Strawberry Crumble
Pre-heat the oven to 200°C (180°C fan oven) and lightly grease a 30x25cm baking dish.
Add the rhubarb, strawberries and sugar into the baking dish and toss together to ensure the fruit is evenly coated with sugar.
Add all of the crumble ingredients into a large mixing bowl and using the tips of your fingers and thumbs, mix the ingredients together until reasonably lumpy but still well mixed. Transfer the crumble mixture to the freezer to chill for 10 minutes.
Horlicks Hint: You want to have as cold hands as possible when doing this. Try washing your hands under cold water just before mixing to help stop the butter from melting.
Scatter the chilled crumble mix over the top of the fruit, making sure you have even distribution. Transfer to the oven and bake for 40 minutes or until golden brown. Leave to cool for 15 minutes before serving.
The Horlicks Custard
To make this malt custard, add the milk and vanilla pod seeds into a saucepan and bring to a very gentle simmer, stirring occasionally for 5 minutes. Do not let the milk boil! Remove from the heat.
In a large, heat-proof mixing bowl, add the egg yolks, sugar, cornflour and Horlicks Original and whisk together until smooth.
Remove the vanilla pod from the hot milk and then ladle spoonfuls of the hot milk into the egg yolk mixture, whisking vigorously as you go until all of the milk is incorporated.
Place your saucepan over a low heat and add the custard mixture back into the pan. Stirring continuously, heat the custard through until it thickens to the point that it coats the back of a wooden spoon.
Pour into a jug and drizzle on top of your warm crumble.
Explore our Horlicks recipes