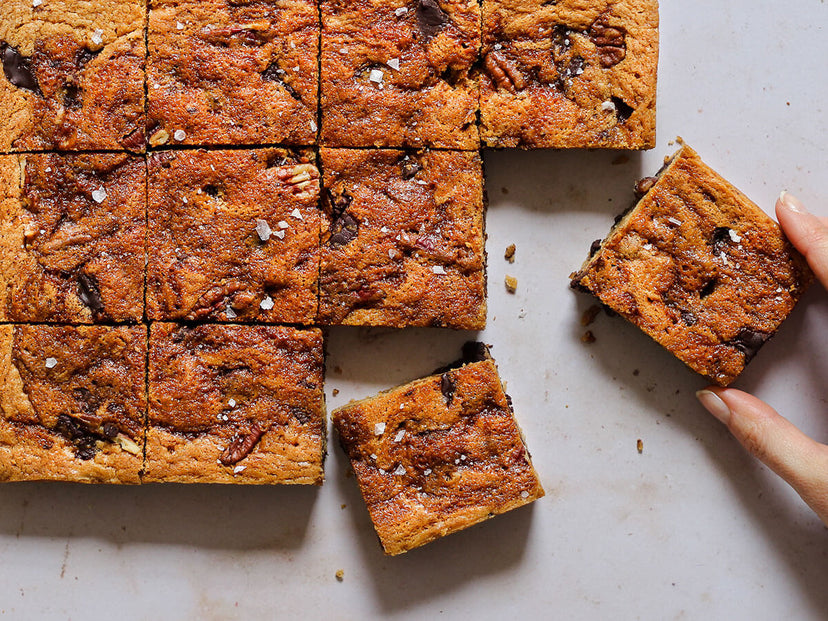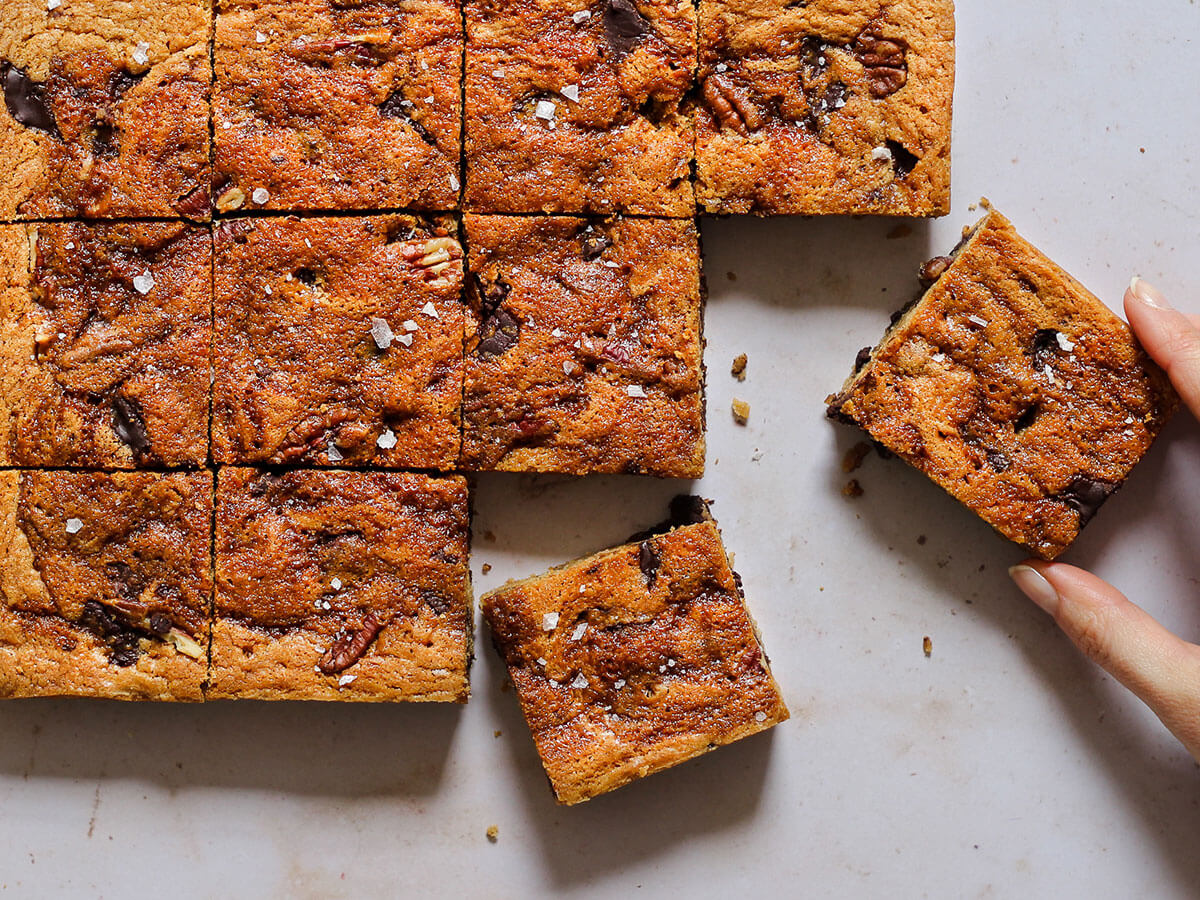 Blondies with chocolate and pecan nuts
By Carmen & Sam
Recipe creator
Our easy and delicious blondies are guaranteed to curb your sweet tooth cravings. We've added chocolate chips, Horlicks Original and pecans to give this recipe the perfect flavour combination.
Ingredients
2 eggs
250g unsalted butter (plus extra to grease the baking tin)
225g plain flour
175g light brown sugar
50g Horlicks Original
150g dark chocolate, roughly chopped
75g pecans, roasted
1 tsp vanilla paste, or extract
1 tsp baking powder
1 tsp fine salt
40g Horlicks Original
15ml hot water
Made using
Method
Preheat the oven to 160°C (140°C fan oven). Grease and line a 23x23cm square tin with baking parchment.
Place a saucepan over a medium heat and melt the butter. Set aside to slightly cool.
In a large mixing bowl, combine the sugar, vanilla paste and melted butter and whisk together until smooth. Add in the eggs and whisk together until you have a smooth, glossy batter.
In a separate bowl, whisk together the plain flour, Horlicks Original, baking powder and salt. Add half of the flour mixture to the batter and combine before adding the second half, mix together until fully incorporated.
Horlicks Hint: By adding the flour in two parts, you'll avoid a lumpy mixture!
Add ⅔ of the chocolate and ⅔ of the pecans to the mixture and fold through until evenly distributed. Transfer the batter into the lined tin, smoothing out the top with a spatula to get an even layer of mixture in the tin.
Make the malt drizzle by combining the Horlicks Original and hot water and whisking together until smooth.
Spoon the malt drizzle over the top of the batter and then run a table knife up and down the surface to swirl the malt drizzle into the batter. Scatter over the remaining chocolate and pecan pieces and gently press them into the batter.
Transfer to the oven and bake for 25-30 minutes – there should be a slight wobble to the top of the mixture. Leave the blondies to cool in the tin for 15 minutes, then transfer to a wire rack to cool completely. Sprinkle with a pinch of flaky salt, slice and serve!
Explore our Horlicks recipes