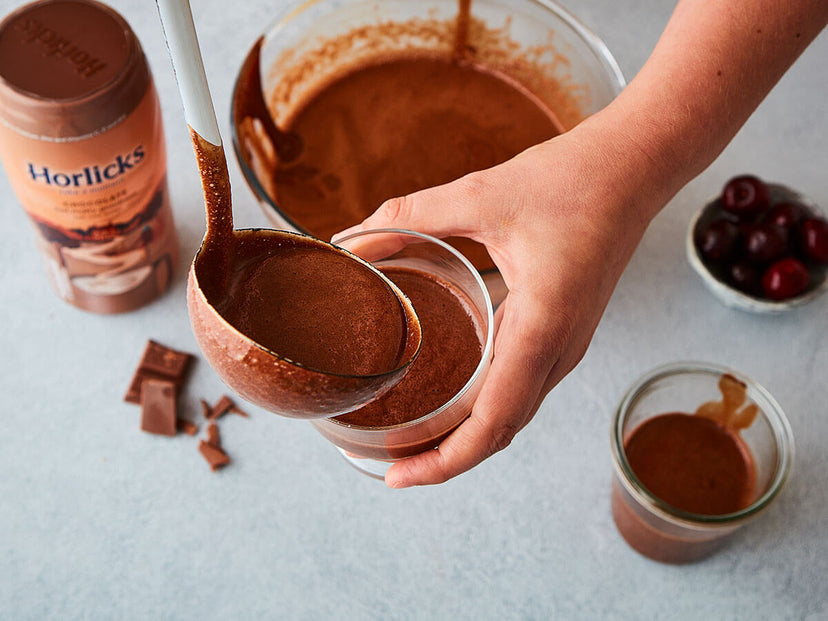 Indulgent chocolate-chilli mousse
Indulge yourself with our quick and easy chocolate and chilli mousse recipe. The perfect, fuss-free dessert for a last minute date night or cooking for friends.
Ingredients
160g 70% dark chocolate
100g fresh cherries, pitted
150ml whole milk
25g Horlicks Chocolate
65ml double cream
1 egg
½ tbsp kirsch liqueur
A squeeze of lemon juice
A pinch of chilli flakes
Made using
Method
Whisk the egg in a bowl until thick and glossy and set aside.
Melt the chocolate in a bowl over a pan of simmering water.
Heat the milk, double cream and Horlicks Chocolate in a saucepan over a medium heat until it comes to a boil.
Pour the warm cream mixture over the whisked egg and then add the melted chocolate and the chilli flakes, mixing gently until well combined. Once fully mixed, pour into glasses and cool.
Halve the cherries, adding a splash of kirsch and a squeeze of lemon, then leave to marinate for at least 30 minutes.
When ready to serve, whip the cream into soft peaks. Add a dollop of cream and a spoonful of cherries onto the chocolate mousse and serve.
Explore our Horlicks recipes