Ten ways to create a cosy home this autumn
24 May 2022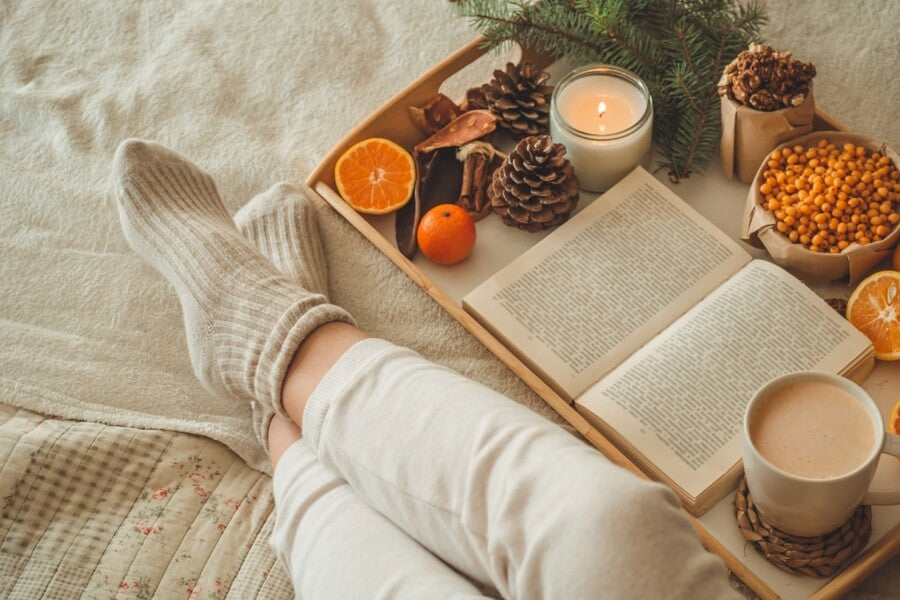 With the days growing colder, and the nights drawing in - now is the perfect time to transform your home into a cosy haven. Just imagine yourself at home with a delicious mug of Horlicks, watching TV, and snuggling up by the fireplace - sounds like absolute bliss, doesn't it? 
To help you feel even snugger this Autumn, follow these tips for creating a cosy home. 
    1. Hang an Autumnal wreath
An Autumnal wreath on your front door will make the walk up to your home even more inviting. You could even get creative and make your own DIY wreath! Watch this easy 'How to Make an Autumn Wreath' video to learn more! If you have alcoves to shelter your front door from the rain, you could use battery-operated fairy lights for an extra touch of seasonal magic.
    2. Replenish your bookshelf and wall art.
Snuggling up with a new book and a blanket  - no better #TimeForAHorlicks in our opinion! Treating yourself to a couple of new books for your bedside tables will encourage you to take time for yourself in the evenings To make your reading atmosphere even more inviting, you could even switch out your day-to-day wall art with something more seasonal - rich, warm colours and tones will create an extra cosy atmosphere.
3. Freshen up your home with a lick of paint.
Painting your walls may not seem like the most obvious way to make your home feel cosy, but why not change up your white walls for something more adventurous? Having an accent wall in your home is known to have many benefits including making you feel more creative and creating a sense of homeliness - mustards, burnt oranges and olive greens are this year's most popular Autumn trends.
  4. Stock up on cosy blankets.
Cosy blankets are ESSENTIAL for winter nights. Having blankets with different textures, colours and patterns will make any couch look more inviting and comfy. To go a step further, change up your cushions/cushion covers to more autumnal colours or patterns. Small switches like these can transform your living or bedroom into an autumn wonderland. 
   5. Updating your home fragrance. 
There's nothing better than coming home from a long day and being welcomed to a delicious smelling home! For the autumn and winter months, look for scents like apple, cinnamon, maple and sandalwood - which are perfect for capturing the essence of a crackling fire or seasonal baking. 
    6. Utilise fairy lights throughout your home.
Add a homely feeling to any room by using fairy lights. This versatile lighting works anywhere around your home; drape a string of lights over a bed's headboard, around your fireplace, or even placed on windowsills - you could even add some DIY holly and thistle to transform these lights into Christmas decorations later in the year. 
  7. Add a rug 
Wood and laminate flooring are both great, but they can get chilly in the winter. The same can be said for tiles. By layering your floors with rugs, you will feel instantly warmer and cosier. Remember: rugs are like artwork for the floor. So adding a rug with warm colours and various textures will enhance any room. 
   8. Add life with plants and flowers.
A bonus of having lots of plants is that you can accessorise with just as many gorgeous ceramics! A plant pot or hanging planter can add colour, texture and interest to any room.
Flowers may seem like a splurge when you first buy them, but if you get into the habit of changing the water and trimming the stems, they can last for quite a while. A bunch of flowers can also be divided amongst several vases throughout your house. 
If you don't have a green thumb, dried flowers are all the rage this Autumn - low maintenance AND pretty? Say no more! 
   9. Warm up your space with curtains. 
What kind of curtains do you use? In the winter, consider replacing your lighter curtains with heavy drapes with thermal lining. Besides keeping the heat in, they add extra softness, and - you guessed it - they make the room cosier!
   10. Stock up your Horlicks!
If we do say so ourselves, the perfect way to make your home feel cosy is by having a non-stop supply of Horlicks. The creations you can make with Horlicks are endless; some of our favourite autumn treats are the Horlicks Sticky Toffee Pudding, or the delicious Horlicks S'mores recipe. Visit our recipe page on our website to find the full recipes and MORE!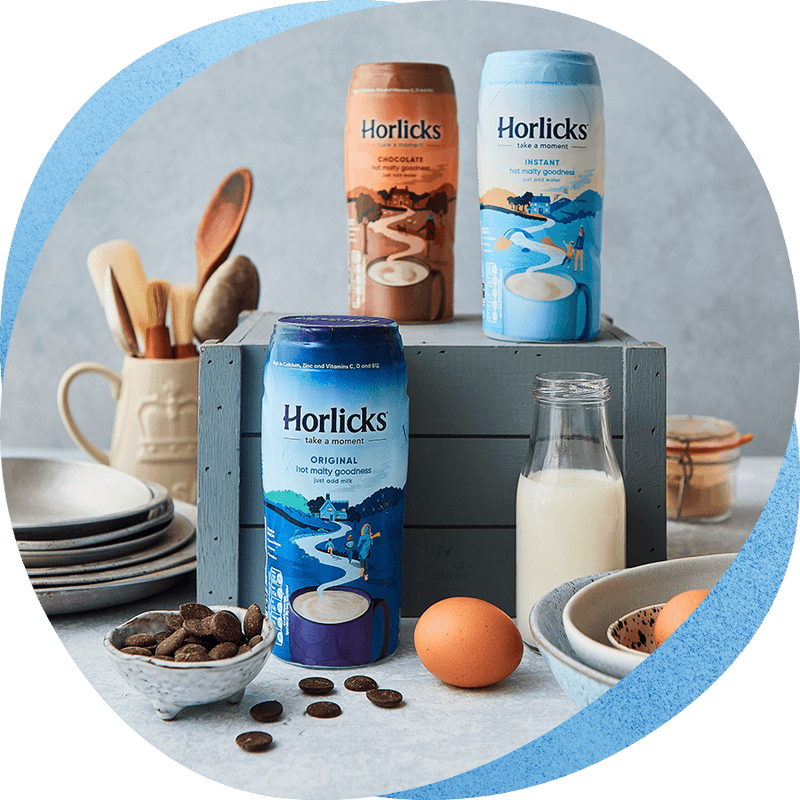 Horlicks
Find out more ways to take a moment with our Horlicks blogs and be sure to follow us on Instagram @horlicksuk