16 fun and free activities for kids so you can take #TimeForAHorlicks
Horlicks 23 May 2022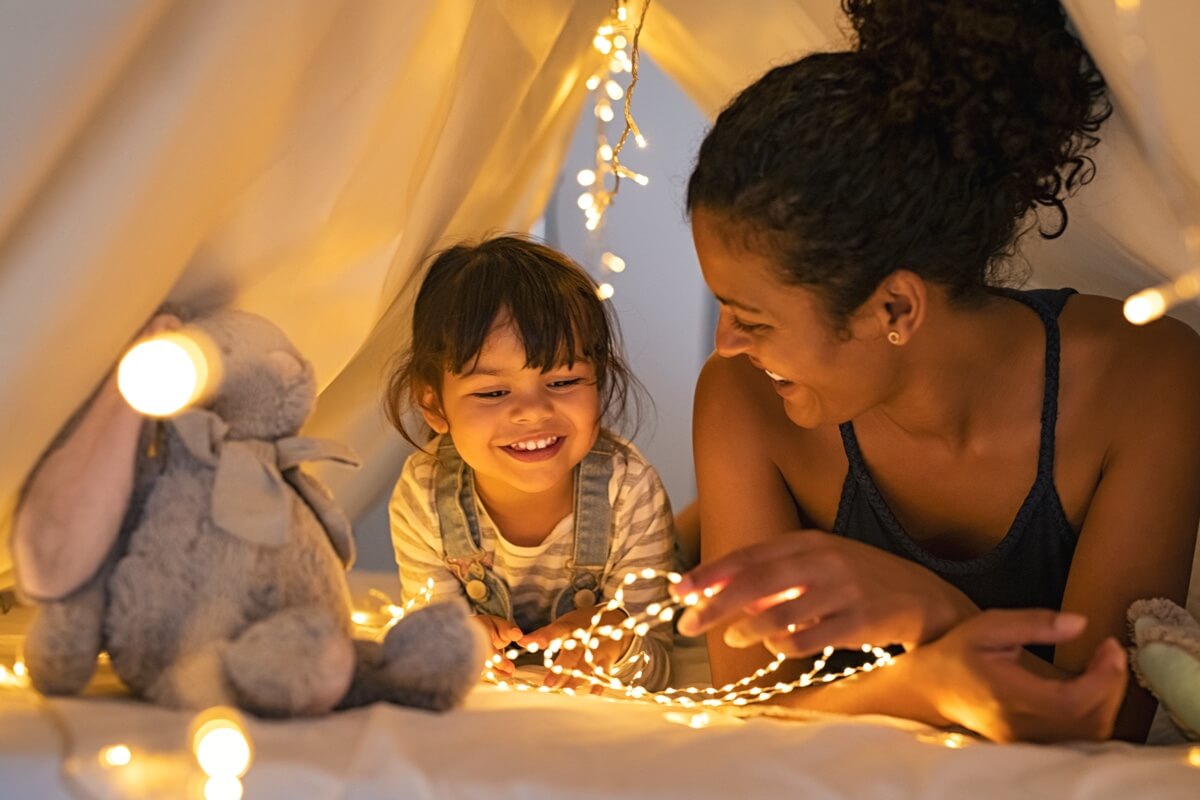 Especially after a year of lockdowns, it can be hard to think of ways to keep your little ones entertained, and more importantly, hard to find moments in the day for a little me-time.
To give you some activity inspiration, we've put together 16 fun, free activities to entertain your kids. Each activity can be done with your children as a way to spend some quality time together, OR you can set them up and let your child play independently - giving you a well-deserved moment to take #TimeForAHorlicks.
1. Drive-through cinema
Who doesn't love a trip to the movies? Well, now you can recreate that experience at home. Set up a cosy den (check out challenge 4!) or dig out an old cardboard box to craft into a car for that "drive-through" feel. Now you can take a moment for yourself while your little one enjoys the magic of cinema.
2. Garden tea party
Enjoy this activity as a family, or take the opportunity to relax in your garden with a good book while you're little ones are occupied. If the sun is shining, throw down a blanket and have a garden tea party this afternoon. If you're looking for a kid-friendly drink, iced Horlicks would be perfect for your little ones - and their teddy bear guests!
3. At-home sports day
This activity is not only a fun-filled afternoon but will hopefully tire out your little ones out to make bedtime easier! Don't worry if you don't have any sports equipment to hand (a bonus if you do!), just work with what you've got! Dig out the old sports day classics - egg and spoon race, wheelbarrow race, three-legged race, or an obstacle course made with items you already have at home. Sit back and play referee for the afternoon!
4. Build a den
Need to tackle the washing up, or just fancy a moment of peace? Supply your children with all the cushions and throws you can find - and set them the challenge of making the most magnificent den they can!
5. Nature trail hunt
Only a small bit of preparation is needed for this one! Simply list out 10-20 things you can find in your garden, and let your child roam free. For younger children, you could list out basic colours, for any older children - make this task harder by only providing clues or riddles.
6. Grow a garden
If you feel like splashing out, invest in a pre-made, kid-friendly gardening kit. Or, for a budget-friendly option - all you'll need is some child-friendly gardening tools, a plant pot, some soil, and a few packs of seeds. You could even set your child the task of creating specific wooden signs to stick in the mud as an extra task to keep them busy. Or plant vegetable seeds - peas are quick and easy to grow and there's no better feeling than eating your own produce!
7. At-home scavenger hunt
Fancy a little peace and quiet? Send your children on a scavenger hunt around the house. Similar to the nature trail gives your children clues to find specific items around the home. The first clue will lead your child to an item that holds the second clue. The second item will hold a clue for the third item, and so on! Whilst they hunt, you can take #TimeForAHorlicks
8. Make your own ice cream
Did someone say Horlicks ice cream? We've got an easy, Horlicks-infused recipe for you to try with your little one. It's delicious for grown-ups and children alike! For a little extra fun, set up a toppings station and let them decorate to their heart's content!

Here's the recipe:
Simply dissolve 4 tbsp Horlicks in 2 tbsp hot milk to form a paste. Set aside to cool. Whip 240ml heavy cream to firm peaks and add 200ml sweetened condensed milk. Beat until well combined and fold in the dissolved Horlicks paste and 1 tbsp vanilla (optional). Transfer to a freezer-friendly container with a lid or cover tightly. Let set for 4- 6 hours or overnight.
9. Bake with Horlicks
If your child is an aspiring baker, we've got plenty of Horlicks-inspired recipes for you to try at home. From gooey, malty brownies to gingerbread families - we've got you covered! Visit our Horlicks recipes here.
10. Homemade pizza party
Introduce your children to cooking AND cover dinner for the evening? What more could you ask for! Simply buy some plain pizza bases, tomato paste, and toppings and let your child's creativity run free. Why not see who can create the funniest face!
11. Horlicks activity pack
We've created a bundle of printable activity sheets for your children. There's enough in there to keep your child entertained for not one, but TWO mugs of Horlicks. Click here to download now! 
12. Make a scrapbook
Scrapbooking is a lovely way to document happy memories of time spent with your children. All you'll need is a plain craft book, some printed photos, and any arts and crafts supplies you have to decorate the pages. Not only will your child find this fun, but you'll also have a beautiful album to treasure forever!
13. Create a pirate treasure map
Ahoy there, matey! A pirate-themed twist to the traditional scavenger hunt, draw out the layout of your home or garden, and devise a treasure-hunting game. You could even leave clues to chocolate coins for them to collect as they go.
14. Kids yoga
Mindfulness isn't just for stressed-out adults! If all the excitement of Horlicks Summer Club has got a bit much, try resetting with 10 minutes of yoga - especially great as a way to wind down before bedtime. Here's one of our favourites. Enjoy together or introduce your child to a mindful moment whilst you sit back and take #TimeForAHorlicks
15. Design a jar of Horlicks
Does your child love to get creative? Challenge them to design their very own Horlicks jar! Don't forget to share their masterpiece with us by tagging @Horlicks_UK in any creations.
16. Photo competition 
Kids LOVE being in charge of the camera, so why not set them a photo challenge? List out creative photo tasks like "Take a selfie in your favourite part of the house" or "Take a photo that will make mummy laugh". Your child will have fun being behind the lens for the day - and you'll have lots of lovely memories captured on camera.
What are your favourite summer holiday activities? Share them with us on Instagram or Facebook - we'd love to see them! 
P.S. If you share your summer holiday adventures with us by the 31st of August, you could be in a chance to win £300. Just don't forget to tag @HorlicksUK and use the #TimeForAHorlicks
Visit our competition page here for more information on how to enter. 
The competition ends 31.08.21. Entrants must be 18+ and residents of the UK. The prize is a £300 voucher. 5 runners up will receive an activity bundle each.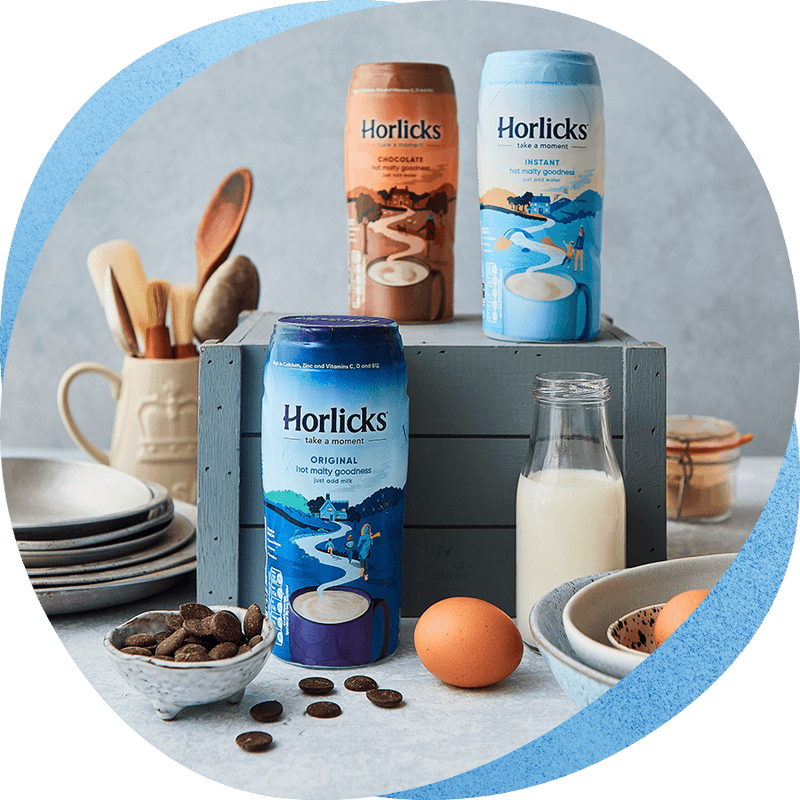 Horlicks
Find out more ways to take a moment with our Horlicks blogs and be sure to follow us on Instagram @horlicksuk