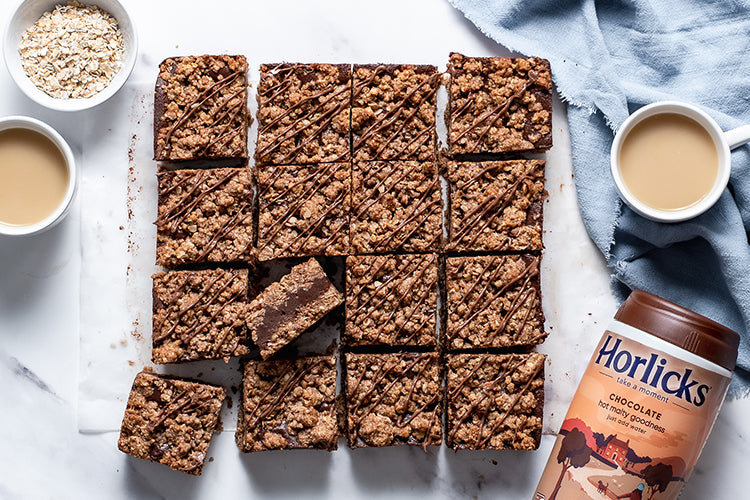 Easy oat bars
Our easy oat bars can be made as a tasty snack or a breakfast on-the-go! This simple and delicious recipe is packed with Horlicks chocolate, oats and honey with a malty Horlicks twist.
Ingredients
175g coconut oil, softened
100g Horlicks Chocolate
245g ground oats
190g oats
1tsp baking powder
120g honey
260g dark chocolate
130g peanut butter
130g Horlicks Chocolate
Made using
Method
Preheat the oven to 170°C (150°C fan oven) and line a 23x23cm square baking tray with baking paper.
In a large bowl, combine the softened coconut oil and Horlicks Chocolate. Add ground oats, oats, flour and baking powder and stir to combine. Finally, add the honey and using a wooden spoon or your hands bring the mixture together. Press two-thirds of the mixture into the bottom of the prepared pan.
To make the chocolate filling, microwave the chocolate until melted. Stir in the peanut butter until smooth (you can also microwave the peanut butter for a few seconds to slightly soften it), then stir in the Horlicks Chocolate.
Pour the chocolate filling over the oat base.
Crumble the remaining oat mixture over the chocolate filling pressing in gently. Bake for 15 minutes and let cool down completely (to allow chocolate to set) before cutting. Cut into at least 16 squares.
Horlicks Hint: These bars are great as they last up to a week in the fridge when stored in an airtight container. Or, put them in the freezer and dip in whenever you fancy a delicious snack.
Explore our Horlicks recipes