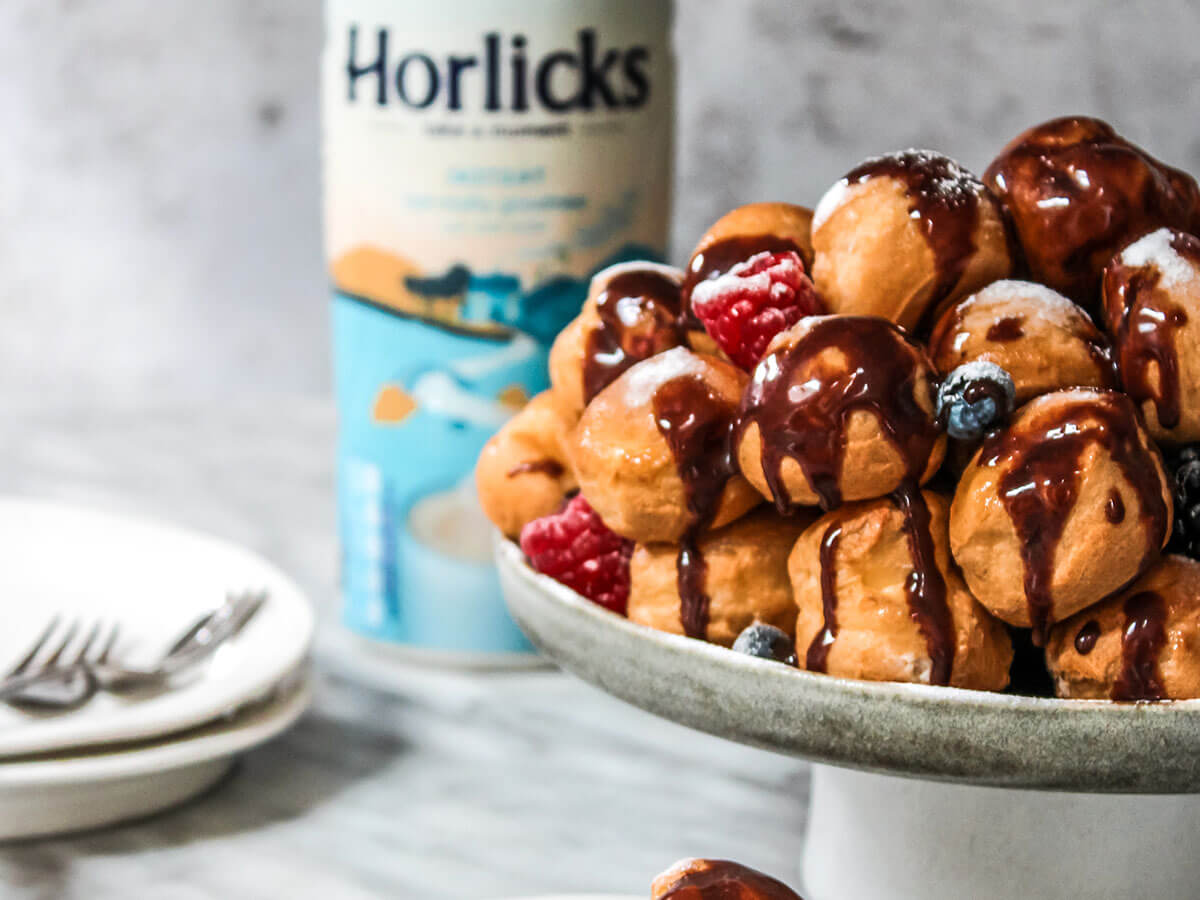 Decadent Horlicks profiteroles
Need 
a
 show stopping dessert for family gatherings
? With Horlicks-infused whipped cream and a rich chocolate sauce, these profiteroles are guaranteed
 to get your family coming back for more
.
Ingredients
150ml water
60g butter
75g plain flour
25g Horlicks Instant
¼ tsp salt
2 large free-range eggs (100g)
300ml double cream
½ tin condensed milk (185ml)
65g Horlicks Instant
100g dark chocolate, chopped
200ml double cream
50g Horlicks Instant
Made using
Method
Preheat the oven to 200°C / 180°C fan / gas mark 5. Line a baking tray with parchment paper and splash with cold water (this will form steam and help the choux to rise).
In a small saucepan bring the water and butter to the boil, then remove from heat. Add the flour, Horlicks Instant and salt. Over a low heat, beat with a spoon until the mixture is smooth and leaves the side of the pan.
Transfer into a mixing bowl and whisk for about 2-3 minutes. This will release steam, helping the mixture to cool.
In a separate bowl, beat the eggs. Slowly add the beaten eggs to the pastry mix until it is smooth and easily slides off a spoon. Transfer the mixture to a piping bag. Pipe into small balls on the lined baking tray and bake for 10 minutes.
After 10 minutes has elapsed, turn down the oven to 170°C and cook for a further 10 minutes. Reduce the heat for a final time to 150°C and cook for an additional 5 minutes. Remove the profiteroles from the oven and, using a skewer, make a small hole in the base of each one to let the steam out.
For the filling, whisk the cream, condensed milk and Horlicks Instant until thick and creamy, then transfer to a piping bag.
Once the choux buns are completely cool, pipe the filling into the hole you made in the bottom.
To make the sauce, heat the Horlicks Chocolate and cream in a small saucepan, then add the chocolate chunks and stir until a glossy chocolate sauce is formed. To serve, arrange the choux buns onto a serving platter and top with the warm chocolate sauce.
Explore our Horlicks recipes