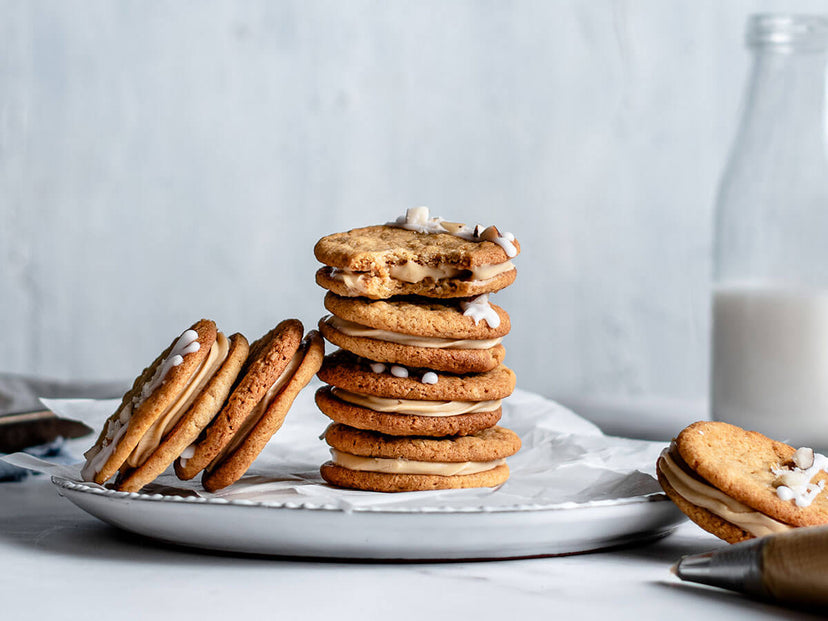 Cream biscuits
Our crunchy, golden biscuits are blended with Horlicks Original and golden syrup, filled with delicious Horlicks cream. Keep them in the biscuit tin for the perfect go-to snack!
Ingredients
200g plain flour
20g oats
60g Horlicks Original
2 tsp baking powder
1 tsp baking soda
40g caster sugar
100g unsalted butter, cold
100g golden syrup
70g cream cheese, room temp
50g unsalted butter, room temp
60g Horlicks Original
220g icing sugar
Made using
Method
Preheat the oven to 180°C (160°C fan oven) and line three baking trays with baking paper.
In a large bowl, combine the flour, oats, Horlicks Original, baking powder, baking soda and caster sugar. Rub in the cold, cubed butter until the mixture looks like breadcrumbs.
Add the golden syrup and using your hands bring the dough together.
Roll the dough into 40 equal balls. Each ball should be around 12-14 grams in size. Using a scale to divide the dough takes a bit longer, but will give you the prettiest same sized biscuits.
Arrange the balls on the baking tray leaving some space between them to allow spreading. Lightly press down each ball and bake for 8 minutes or until the biscuits are golden and spread out. Leave a few minutes to cool down on the baking tray then transfer to a cooling rack.
To make the filling, mix together the cream cheese, butter, Horlicks Original and icing sugar until smooth.
When the biscuits have cooled down, pipe or spoon around 1 tbsp of the filling over the centre of one biscuit, then cover it with another. Repeat until all biscuits are sandwiched.
Top tip: Why not decorate your biscuits with icing and chopped nuts. To make the icing, whisk together 30g icing sugar and 4ml of water and drizzle over the biscuits.
Explore our Horlicks recipes