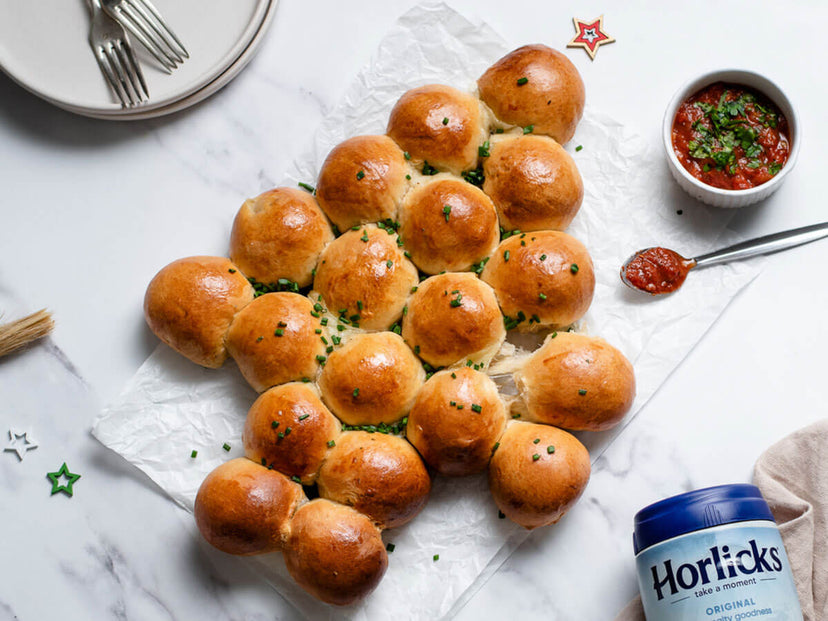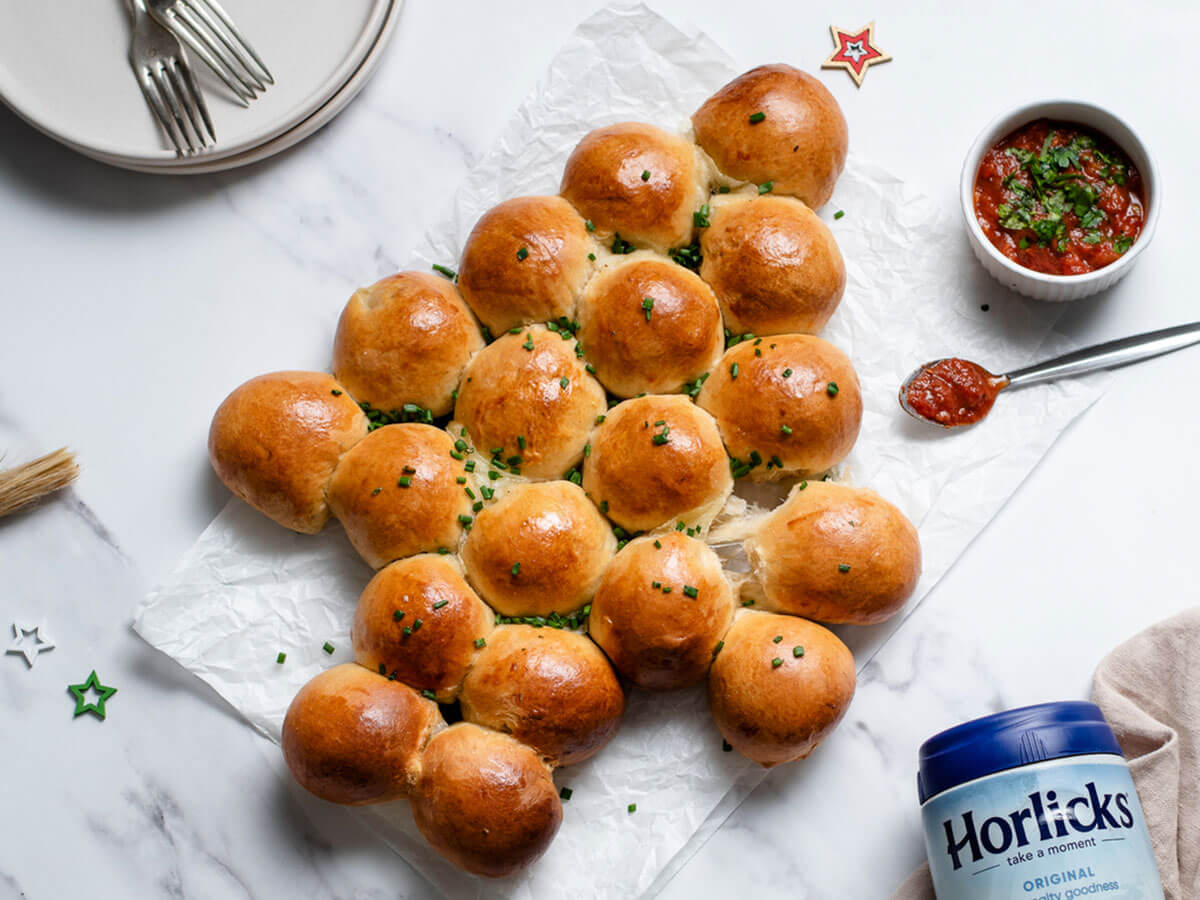 Christmas Tree Bread Rolls
Try our pull-apart Christmas tree bread rolls with a melt in the middle mozzarella centre and marina dipping sauce. The perfect recipe to share with family and friends over the festive period. 
Ingredients
170g warm water
1 1/2 tsp dry yeast
500g bread flour
2 tbsp Horlicks Original
2 tsp salt
2 eggs
70g unsalted butter
150g mozzarella, drained
50g unsalted butter
1 small garlic clove
1/2 tsp mixed Italian herbs
2 tbsp olive oil
1 can crushed tomatoes
1 garlic clove
1/2 tsp salt
Pepper, to taste
2 tsp oregano
1 tbsp Horlicks Original
Handful of fresh chopped parsley
Made using
Method
In the bowl of a stand mixer, combine the flour, salt, Horlicks Original, sugar and yeast and mix until combined.
Pour in the water and start mixing on low speed using the dough hook. Add melted butter and 1 beaten egg and continue mixing for 5 minutes on a medium speed.
Transfer the dough into an oiled, clean bowl and cover with cling film. Put in a warm place and let rise for about 1 hour, or until doubled in size.
Line a big baking tray with parchment paper.
Drain the mozzarella and dry it with kitchen paper.
Once the dough has risen, divide it into 19 equal pieces. Flatten each peace in the palm of your hand and add a piece of mozzarella. Pinch the edges of the dough together to seal and form a ball.
Place the balls (sealed side down) onto the tray making the Christmas tree shape. Make sure to leave some space between the balls as they will rise during baking.
Brush the balls with the remaining beaten egg and bake in a preheated oven at 190°C (170°C fan) for 20-25 minutes.
While the rolls are baking, make the marinara sauce. In a medium saucepan, heat the olive oil over a medium heat, add the minced garlic and stir for 30-seconds. Add tomatoes, salt, pepper, oregano and Horlicks Original and bring to boil. Now reduce the heat and simmer for 10 minutes. Remove from heat and stir in the fresh parsley.
Horlicks Hint: You can use basil instead of parsley. If you like a smooth sauce, blitz the marinara sauce with an immersion blender after cooking.
Now prepare the melted butter for brushing. In a small saucepan, add the butter and grated (or finely chopped) garlic. Heat until the butter is melted then sizzle for another minute. Stir in the herbs and remove from the heat.
When the bread rolls are baked, let cool down for a few minutes and transfer to a board or a platter. Brush with melted butter, let soak and brush again.
Serve with the marinara sauce.
Explore our Horlicks recipes